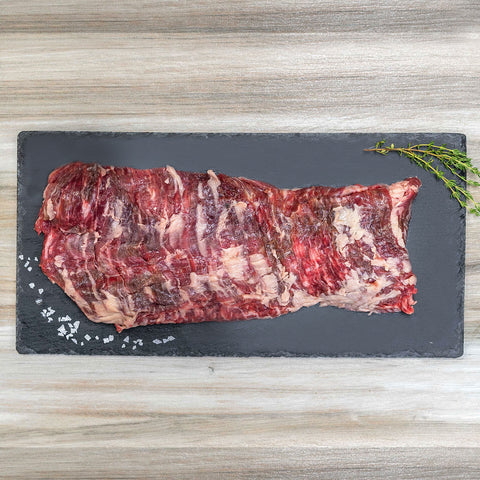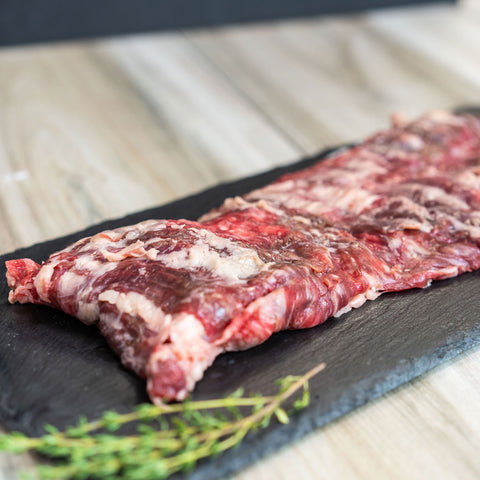 Wodagyu
Wagyu Inside Skirt
Ships from Texas
100% natural, no added hormones
Dry-aged 21+ days for improved flavor and texture
Individually wrapped 
Product ships frozen and will arrive frozen or partially thawed
All weights are approximations. Weights will vary 0.3lbs +/-
The humble fajita would be nothing without the skirt steak that is it's traditional filling. One of the best cuts of meat for marinating due to a large surface size and slim profile the skirt steak can be cooked many ways but really shines on the grill. Be sure to slice skirt steak against the grain to maximize tenderness.
Best Fajitas Ever!
I have a griddle on the middle eye of my stove. I can make this medium rare pretty easily and get the much beloved grill marks too. Its a perfectly cooked fajita in the end. The fat content makes this so flavorful. Just wow. I only use this now to make my beef fajitas.
Great quality!
I make the best fajitas on either side of the Mississippi, but when you start with great quality meat to begin with it makes it that much easier. Definitely recommend!
Incredible!!!!!
I ordered a 3# inside skirt and threw it on the grill. My family and I like to treat skirt as just another steak and eat it as such. It came in 2 pieces, both of which were quite long, I'd estimate it at 24 in. a piece. As mentioned in another review, the steak was quite thick at the middle which was a pleasant surprise. I cut it into different pieces of roughly equal size and threw them over a hot fire.
This is HANDS. DOWN. THE. BEST. STEAK. I. HAVE. EVER. EATEN.
So incredibly tender and beefy. I used a simple Sea salt and heavy 32 mesh black pepper seasoning and the flavor was so perfectly complemented. My daughter agreed it was the best steak she has ever eaten. My wife said I need to order it again. Even the babies ate it.
All in all I was very happy with my purchase and can not wait to get some more of this high quality beef. I still have a rack of beef ribs to smoke that I bought at the same time, and I'm thinking I might splurge for a brisket next. AMAZING!