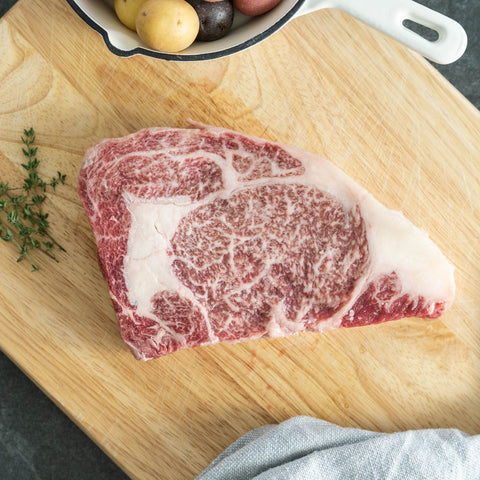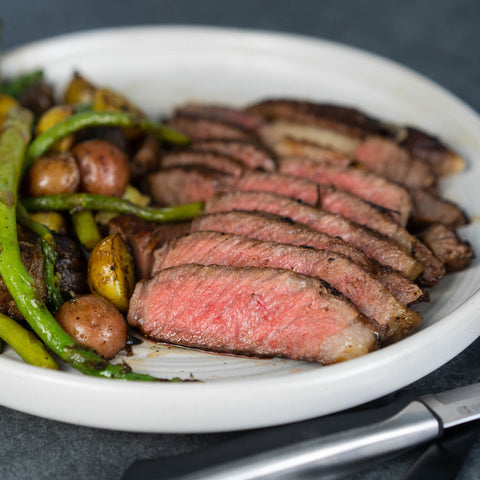 Wodagyu
Wagyu Ribeye - Central Fulfillment
Ships from Kansas Fulfillment Center
100% natural, no added hormones
Dry-aged 21+ days for improved flavor and texture
Individually wrapped
Product ships frozen and will arrive frozen or partially thawed.
Five minutes and a pinch of salt and pepper are all you need to turn a beautiful Boneless Ribeye into a classic dinner. Cut from the center of the rib primal the Boneless Ribeye is known for an intense beef flavor and buttery texture. What else is there to say? The perfect steak and great for any occasion. Do yourself a favor and treat yourself, it only takes five minutes.
The perfect steak
These ribeyes have the perfect balance between meat and marble. They are well above prime but not so fatty that you can't enjoy an entire steak like A5. These are the equivalent of BMS 8-9. Flavor was amazing and the meat perfectly tender.
Fantastic
These steaks are fantastic! More marbled than the typical steak but not so much that you can only eat a few bites!
Meatology 101
Rib Section
Boneless ribeye

Cut from the center part of the Rib primal. It's known for its buttery flavor and melt in your mouth texture. Five minutes and a pinch of salt and pepper are all you need to turn a beautiful Boneless Ribeye into a classic dinner.
Cuts from the Rib section also include:
Ribeye details, Grading & Marbling
Flavor and texture
There's a reason why the ribeye is the most popular steak in America but wagyu ribeyes takes your favorite cut to another level. With its dense marbling, rich flavor, and buttery texture Wodagyu's wagyu ribeyes are sure to create an expectational eating experience.
a cut above the rest
All of our steaks are cut 1.5" thick giving you a hunk of a steak. With its robust flavor profile you really can't go wrong with this cut. Throw it on the grill or sear it on high - this versatile steak is so easy to work with, it's no wonder it is our most popular cut!
Dry aged for 21 days

Like all of our wagyu steaks, the Ribeye is dry aged for 21 days. Dry aging is a process that uses natural enzymes to tenderize and concentrate the delicious beefy flavor, giving you a succulent and juicy steak.
Benefits of healthy Wagyu Meat
All Natural Wagyu
All natural, never injected with artificial hormones or antibiotics.
Health Benefits
Improve the immune system

Reduce the risk of Heart Disease

Reduce the risk of Type 2 Diabetes
Healthy Fats
Lowers cholesterol

Prevents coronary disease

Helps weight loss
Wagyu summer is here,so let gets grilling

Its time to grill don't just cook them burgers wow them with a beautiful Wagyu Steak It will be a steak to remember.

best ways to cook: insert title

SKILLET OR CAST IRON

Crank up the heat and sear on a skillet. To level up on flavor whip out your cast iron pan.
GRILL

Slap it on the grill and sear to perfection.
REVERSE SEAR

Cook it low and slow in the oven then finish on a skillet or cast iron over high heat for a crisp crust.
Wagyu

Difference
Wodagyu has full-blood wagyu cattle.
There are only around 30,000 wagyu cattle in the US today! That equates to about 0.029% of the entire cattle population! Although The American Wagyu Association estimates that there are 30,000 Wagyu-influenced cattle in America, due to crossbreeding, fewer than 5,000 are 100% Full-blooded Wagyu. In 1997 Japan banned the exportation of these prized cows deeming them a " living national treasure". The ban remained in place until the early 2000s and is the main reason Wagyu beef is viewed as a rarity today.
Local Delivery

Available
Find out if you are in our delivery zone to get our
product sooner the real farm to table experience
Get Wodagyu Delivery Now!