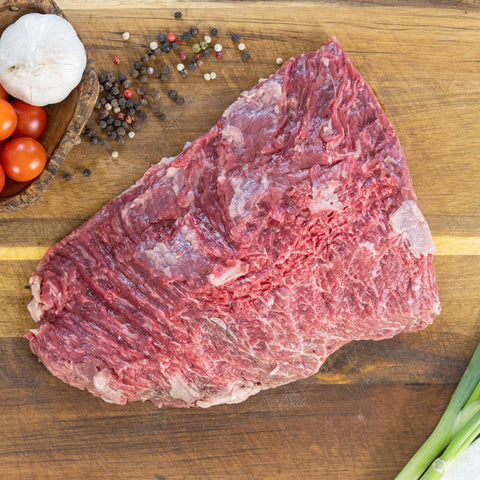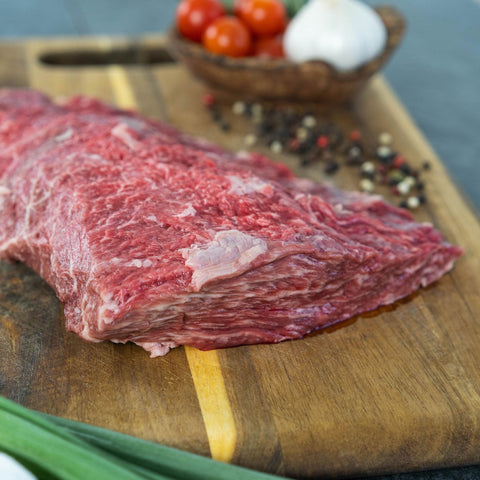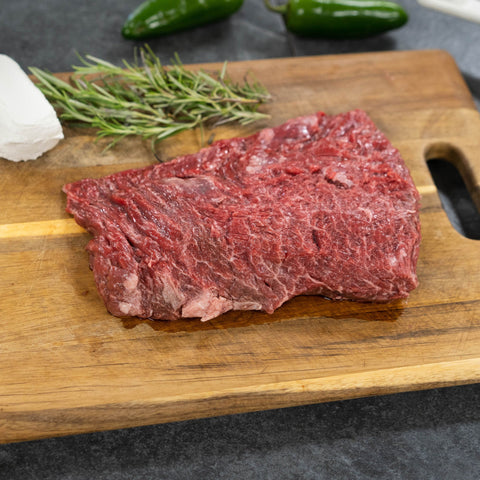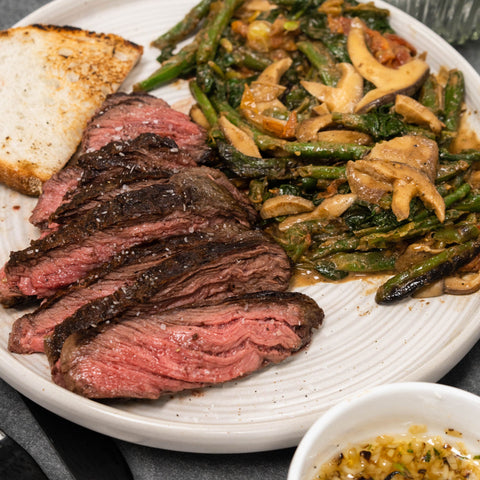 Wodagyu
Wagyu Sirloin Bavette - Central Fulfillment
Ships from Kansas Fulfillment Center
100% natural, no added hormones
Dry-aged 21+ days for improved flavor and texture
Individually wrapped
Product ships frozen and will arrive frozen or partially thawed
All weights are approximations. Weights will vary 0.3lbs +/-
Meatology 101
SIRLOIN Section
Bavette (Flap steak)
Cut from the bottom Sirloin, this cut is similar to the flank and skirt steaks but bolder in both flavor and texture. The bavette shines with a marinade and is made for the grill and broiler. This hefty cut is great for sharing with friends and family.
Cuts from the sirloin section also include:
Coulotte (Picanha)

Sirloin Filet

Tri Tip

Bavette details, Grading & Marbling
BAVETTE FLAVOR & TEXTURE
The bavette is characterized by its loose fibrous texture, similar to skirt steaks. This feature allows rubs and marinades to really penetrate deep into the steak giving you a more flavorful dish.
a unique cut
This is not a typical cut that you can find at your local supermarket. In fact, many beef eaters probably have never even heard of the bavette. This can be attributed to the fact that you only get around 2-4lbs from a single animal!
Dry Aged for 21 days
Like all of our wagyu steaks, the bavette is dry aged for 21 days. Dry aging is a process that uses natural enzymes to tenderize and concentrate the delicious beefy flavor, giving you a succulent and juicy steak.
Wagyu summer is here,so let gets grilling

Its time to grill don't just cook them burgers wow them with a beautiful Wagyu Steak It will be a steak to remember.

Benefits of healthy Wagyu Meat
All Natural Wagyu
All natural, never injected with artificial hormones or antibiotics.
Health Benefits
Improve the immune system

Reduce the risk of Heart Disease

Reduce the risk of Type 2 Diabetes
Healthy Fats
Lowers cholesterol

Prevents coronary disease

Helps weight loss
best ways to cook: insert title

SKILLET OR CAST IRON

Crank up the heat and sear on a skillet. Or to level up on flavor whip out your cast iron pan.
GRILL OR BROIL

Marinate this cut overnight, then throw on the grill or oven at a high temperature.
Wagyu

Difference
Wodagyu has full-blood wagyu cattle.
There are only around 30,000 wagyu cattle in the US today! That equates to about 0.029% of the entire cattle population! Although The American Wagyu Association estimates that there are 30,000 Wagyu-influenced cattle in America, due to crossbreeding, fewer than 5,000 are 100% Full-blooded Wagyu. In 1997 Japan banned the exportation of these prized cows deeming them a " living national treasure". The ban remained in place until the early 2000s and is the main reason Wagyu beef is viewed as a rarity today.
Local Delivery

Available
Find out if you are in our delivery zone to get our
product sooner the real farm to table experience
Get Wodagyu Delivery Now!